Grupo Cajamar increases net profit by 23.6% in June
---
The profit and loss statement reflects the positive trend in recurring income, the steady improvement in portfolio credit quality and the strengthening of the Group's solvency and liquidity position.
- Improvement in recurring income is driving earnings, with net interest income up by 42.7% year-on-year.

- Customer funds under management have increased by 5.6% year-on-year, to €49,820 million.

- Performing loans have grown 5.3% to €37,482 million, an increase of €1,880 million compared to the same period of the previous year, with a particularly strong contribution from new lending to the agri-food sector.

- The NPL ratio is down 0.7 points, at 2.2%, well below the industry average.

- Year-on-year growth of eligible own funds, at 4.3%, underpins the strength of CET1; and the fully loaded Total Capital ratio stands at 15.7%, with a surplus of €667 million above regulatory requirements. The fully loaded CET1 ratio, on the other hand, is 13.3%, well in excess of regulatory requirements.
Exterior image of one of the more than 1,000 offices and agencies of the Cajamar Group.
Results
Grupo Cajamar's profit and loss statement reflects growth in recurring income, the steady improvement in portfolio credit quality and the strengthening of the Group's solvency and liquidity position.

The growth in recurring income, driven by strong performance in the typical banking business, both lending and deposits, boosted 2023 first-half earnings. Net interest income came to €469.2 million, which is 42.7% more than in the same period of the previous year, assisted by the trend in interest rates. Gross income is up €15.4 million, at €606.9 million, 2.6% more than in the same quarter of the previous year, while gross income without gains (losses) on financial transactions is up 29.4% compared to the same period of the previous year.

The 1.1 percentage point increase in the customers' spread, to 2.7%, and the increase in profitability bring the recurring cost-income ratio to 51.5%, marking an improvement of 11.6 points compared to the same quarter of the previous year. Meanwhile, operating income is up by 66.7% year-on-year.

The Cajamar cooperative banking group gives priority to prudent management and continues to allocate a large share of its income to write-downs for losses on financial and non-financial assets, which amount to €152.4 million euros, rather than to higher profits. Nevertheless, consolidated net profit has increased to €59.7 million, up 23.6%, in line with the forecasts for this year.

The continuing improvement in asset quality reflects the sound management of non-performing assets and has contributed to the fall in the NPL ratio of 0.7 percentage points, to 2.2%, well below the industry average. This fall is attributable to the 21.3% year-on-year decline in non-performing total risks, a decrease of €240 million. Similarly, net foreclosed assets are down by €218 million, or 32%, compared to the first half of 2022, while the foreclosed assets coverage ratio is up by 5.7 percentage points, at 66.1%.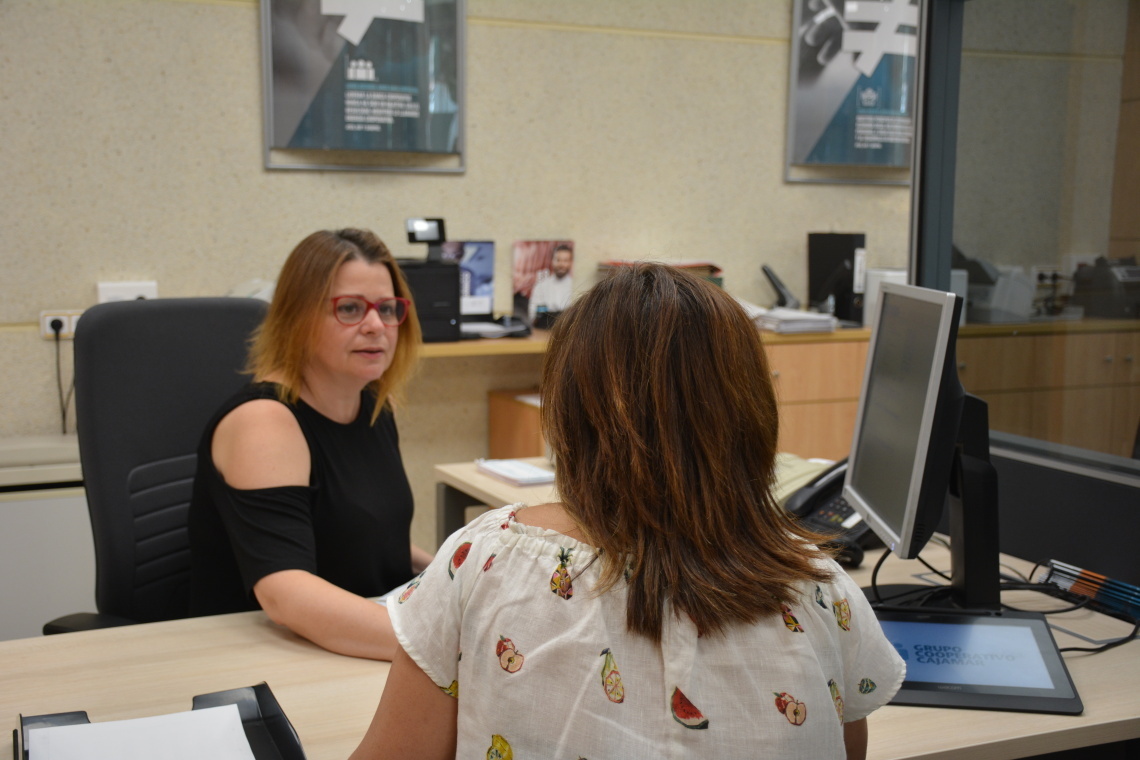 Image of customer service in a Grupo Cajamar office.

Commercial activity

Performing loans grew by €1,880 million, or 5.3%, compared to the same period of the previous year, reaching a total of €37,482 million. The Group thus has a diversified risk portfolio, comprising a remarkable 45.6% of new business loans to the agri-food sector, 31.7% of loans to SMEs and micro-enterprises and 22.7% to large companies.

Customer funds under management are up by 5.6% year-on-year, at €49,820 million, driven by growth in both on- and off-balance sheet customer funds. The highlight is the sharp increase in investment funds, which posted growth of 24.1%, well above the industry average of 11.9%.

As a result, Grupo Cooperativo Cajamar has grown its domestic market share to 2.9% in investment and to 2.6% in deposits.

At the same time, total assets of the balance sheet stand at €61,975 million and the total volume of business managed at €99,019 million.

Customer service
Grupo Cooperativo Cajamar is the highest rated bank in terms of customer satisfaction among the ten significant institutions in the Spanish financial system, as measured by the Net Promoter Score (NPS), according to the Financial Sector Customer Satisfaction Benchmarking Study conducted by Stiga in the second quarter of 2023. With an NPS of 13.9%, the Group stands out significantly against the poor results of the sector as a whole, which has an average score of -4.8%.

Grupo Cajamar offers its products and services to its 3.7 million customers and more than 1.6 million members, who are served in person by 5,204 professionals in its more than 1,000 branches and agencies, more than 33% of which are in municipalities with fewer than 5,000 inhabitants. It also has six mobile branches (specially equipped vehicles), which bring financial services to rural areas, serving 43 low-population localities with between 170 and 1,500 inhabitants, thus preventing financial exclusion and, above all, meeting the financial needs of older people. It also offers its customers and users a network of 1,505 proprietary ATMs, at which they can carry out basic account transactions for themselves at any time of day.

The adaptation of Grupo Cooperativo Cajamar's nearly 1.1 million digital customers to the digitalisation process is reflected in the increase in the number of transactions carried out through digital, electronic and mobile banking channels, which is up by 6.8% compared to the same period of the previous year and includes 58 million transactions via the app and 34 million via electronic banking. It is worth to highlight that, our high loyalty 360° account is up by 11% in the year and has already reached 445,000 customers.

The 18 rural savings banks that make up Grupo Cooperativo Cajamar, together with Banco de Crédito Social Cooperativo, as the Group's parent, are committed to expanding the existing Code of Good Practices and upholding the new Code of Good Practices in mortgage lending , with a view to mitigating the impact of rising interest rates on particular groups of middle-income customers who have been especially affected by the current situation.

Solvency and liquidity
Grupo Cajamar also saw an increase in solvency during the first half of this year. The fully loaded Total Capital ratio is up 0.3 percentage points, at 15.7%, and eligible own funds are up by 4.3% year-on-year, supported by strong CET1 capital. The fully loaded CET1 ratio is at 13.3%, comfortably meeting regulatory requirements, with a total capital surplus of €667 million on a fully loaded basis.

The MREL ratio is up 2 percentage points year-on-year, at 20.2%.

Grupo Cooperativo Cajamar maintained a comfortable liquidity position throughout the first half of 2023, in which completed two issuances of mortgage bonds with a total amount of €1,100 million. At the same time, the Group has available liquid assets totalling €13,489 million, including both high-quality liquid assets (HQLA) and other ECB eligible liquid assets and central bank deposits. In addition to this, our mortgage bond issuance capacity is up to €2,537 million. With these resources the Group easily meets the regulatory limits, with a liquidity coverage ratio (LCR) of 196% and a net stable funding ratio (NSFR) of 139.3%.

Sustainable finance
The Cajamar cooperative banking group was awarded 'A List' status in the first half of this year at the CDP Europe Awards in Paris, as a leading company for its corporate transparency and climate change performance. CDP, a global gold standard in climate change processes and reporting for companies, also named Grupo Cooperativo Cajamar in its Supplier Engagement Leaderboard report as one of the 288 companies that scored an 'A' out of more than 15,000 companies evaluated. It should also be noted that the first quarter saw the publication of Grupo Cooperativo Cajamar's Sustainability Report for 2022.

Sustainable development is one of Grupo Cajamar's key, enterprise-wide objectives, with a strategy oriented towards driving shared value creation in the short, medium and longer term. The Group is therefore pressing ahead with the implementation of its Sustainable Finance Master Plan to encourage companies, self-employed entrepreneurs and households to adapt to a more efficient, more sustainable model, and also with the inclusion of ESG indicators in credit risk analysis and in the analysis and evaluation of its suppliers' certification processes.

Similarly, Cajamar Group professionals are undergoing ESG training, so that they are able to assist the Group's members and customers in their ecological transition. The Group entered into an agreement with the European Investment Bank (EIB) in June for the purchase of a mortgage bond amounting €350 million, which will enable the Group to raise up to €980 million to support investment projects undertaken by SMEs and mid-caps, especially those operating in rural areas and linked to the agri-food sector. Of this total, up to €196 million will be used to speed up the green transition. This financing includes the Green Gateway advisory programme, which serves to determine a project's eligibility for EIB 'green' financing, as well as its environmental impact, and strengthens Grupo Cajamar's capacity to assess, originate, finance and monitor green projects, thereby reinforcing the European Union's sustainable finance regulatory framework.

The Group's commitment to the environment is also being implemented through the Bosque Cajamar - Mar de oxígeno (Cajamar Forest - Sea of Oxygen) project, involving the reforestation of a 27.54-hectare area in the Sierra María-Los Vélez Natural Park. This project contributes to the fight against climate change and the improvement of biodiversity through the recovery of native species adapted to the environment and will help to improve the ecological, scenic and touristic value of this natural spot, while meeting local environmental and social needs and promoting economic activity in a rural area at risk of depopulation.

Grupo Cooperativo Cajamar continues to expand and adapt its specialised range of products and services for the agri-food sector, as well as its specialised technical advisory and knowledge transfer programmes for companies, cooperatives and producers, thus working to improve competitiveness, funding and information management in the Spanish agri-food sector.

In this field, the Group disseminates and promotes initiatives aimed at innovation, digitisation and sustainability in the agri-food sector through its digital agri-food community Plataforma Tierra. One such initiative is the development of the CX Tierra digital field notebook, an app that makes it easier for farmers, livestock producers and professionals in the sector to record data and treatments carried out on each property, which will start to become mandatory from 1 September. Plataforma Tierra also has one of the largest private agri-food bibliographies, having published 255 agri-food reports and publications this year. Highlights include El primer estudio del Observatorio de Digitalización del Sector Agroalimentario y del Medio Rural (First Report of the Agri-food and Rural Environment Digitalization Observatory), produced in collaboration with the Ministry of Agriculture, Fisheries and Food, and the 2022 report Observatorio sobre el sector agroalimentario español en el contexto europeo (Observatory on the Spanish agri-food sector in the European context), produced by the IVIE. The platform also publishes the results of the research, studies and tests conducted in its experimental centres in Almería and Valencia. At the same time, it provides training courses and programmes both in-person, online and via webinars.

The high-tech water business incubator Cajamar Innova continues to support innovative entrepreneurs and startups, so as to help projects delivering sustainable water resource management solutions to become viable.

It should also be noted that Cajamar Group executives and technical teams engage with agri-food companies at trade fairs and gatherings with a view to assisting them in their national and international promotion and expansion and are actively involved in organising business meetings to discuss the challenges faced by Spanish companies and the financing facilities available to them through the Next Generation European funds and other Spanish and European initiatives to modernise, develop and innovate their businesses.